The Enfield Tennis Club was built in 2003, and is conveniently located on Shaker Road in Enfield, CT, making it easily accessible for residents of both Western Massachusetts and Northern Connecticut.

We are a full-service, year-round tennis facility, complete with pro shop, locker rooms with shower facilities and five state-of-the-art indoor tennis courts. We have a large viewing area that can be used for meetings or social events, with an adjacent kitchenette for the convenience of our members and guests. Our viewing area also features a television with a comfortable leather seating area, a play room for young children, and two ping pong tables. Lots of space and plenty of activities for tennis players, spectators and guests!
We are open 7 days a week from 7 a.m. – 10 p.m., and offer a menu of programs and services for all levels of players. We are owned by a group of 26 local tennis families and tennis enthusiasts. Our ownership group helps us maintain our family-friendly tennis focus.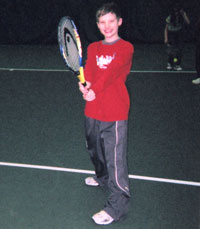 At the Enfield Tennis Club, you can purchase court time, participate in weekly "contract time" or private and group tennis lessons, enroll in junior clinics and match play opportunities, hit with a ball machine, join a league, workout in one of our Cardio Tennis fitness clinics and attend tennis parties. The possibilities are endless!
We are a USTA-approved Tennis Welcome Center, helping to introduce those new to the area and to the game to this wonderful lifetime sport. Our staff is involved with tennis and recreational programs in many of our surrounding communities, as well, so can assist you in finding tennis partners, matches and activities both indoors and outdoors all year long.
We invite you to review the following pages to learn more about The Enfield Tennis Club, our staff and some of our programs and services. We also hope that you'll call or visit us at:
The Enfield Tennis Club
226 Shaker Road
Enfield, CT 06082
(860) 698-6503 Tel.
(860) 698-6519 Fax
TETC@TETC.necoxmail.com Email